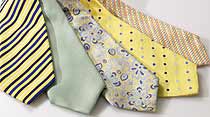 Ties galore

Apparently there are many places where one could keep one's ties. Ideally, the multicoloured ties are hung on a tie hanger in the closet but one particular person I know quite well seems to think otherwise.
A favourite is the dining table, sometimes the dining chair, other times at the sofa downstairs, then there is the writing desk, perhaps on the dressing table, if not one the camel seat by the door, otherwise on the breakfast table. All these are the many creative places one can choose to keep one's ties and sometimes by pure magic all the ties suddenly appeared in the closet again. Isn't life amazing?
Aside from the many places one can creatively keep one's ties, one can also make creative use of them. A favourite is as a bib aka a way to show one's wife one had for lunch. A spot of curry, perhaps barbeque sauce or ketchup if one had hamburgers for lunch.
So why do men wear ties anyways??
Next entry…. socks and why men should invent disposable socks or use socks as a novel home décor item.